Since the 1950's, the airbrush technique has dominated manual shaded relief production. Compared with ink, pencil or chalk, an airbrush produces shaded relief more quickly. The resulting images also exhibit higher contrast and smoother tonal gradients. On the down side, the manipulation of an airbrush is rather difficult to learn. Furthermore, it is hard to make corrections to the darker parts of a shaded relief.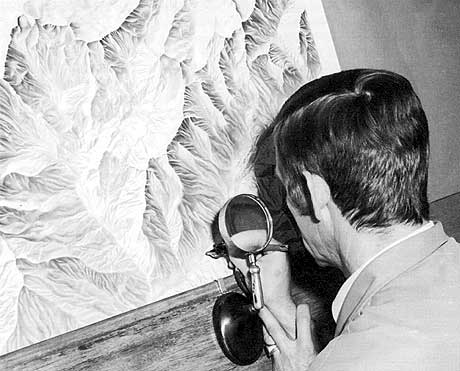 Cartographer Eduard (Edi) Geissbühler working with an airbrush. ©
swisstopo
.
Nowadays, digital airbrushes—used in conjunction with drawing tablets, graphical software, and computers—have largely replaced traditional models. A digital airbrush offers the same advantages as a traditional airbrush, but corrections are more easily accomplished (and inexperienced cartographers won't dirty their fingers).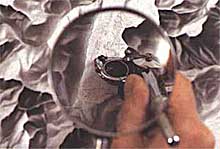 Analogue airbrush seen through a magnifying lens.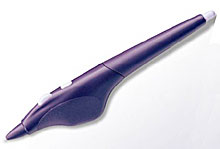 Digital airbrush by ©
Wacom
.
For more information about manual airbrushing, see the article by Wendy Price ("Relief Presentation: Manual Airbrushing Combined with Computer Technology") in The Cartographic Journal, Vol. 38 No. 1, 2001.